About the Trust System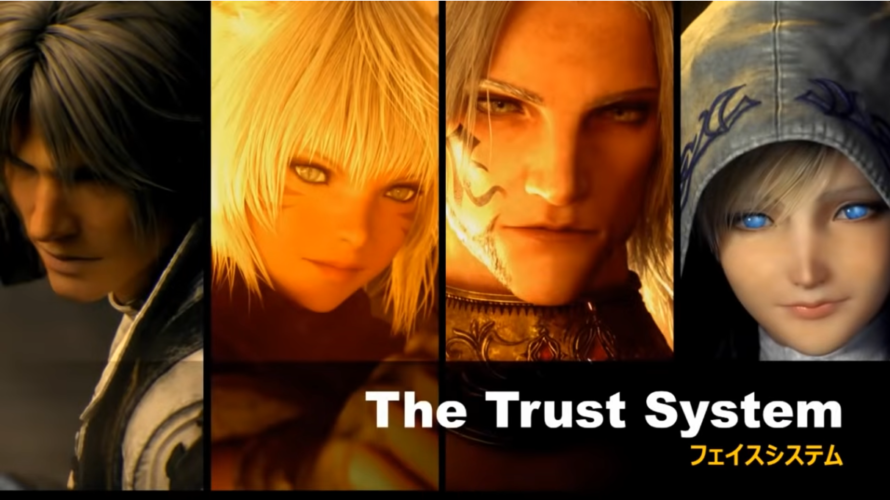 Hi, this is Karin(@KarinMie_en).

It is almost a week until Early Access to Shadowbringers!
I wrote about the Trust System that was released from the 52nd PLL.
What is the Trust System?
It is the System that go to dungeon concerned with main scenario with NPC.
Till now, we have to wait matching a party by duty finder, but we can go solo because of the Trust System.
It supports all roles so you can use any roles as you like.
Each NPC have oridinal actions and AI so we don't need to order what to do.
The AI focus on personality not wise.
It takes about 30 minutes to finish the dungeon by the Trust System, so duty finder is faster than the Trust System.
If the player is knocked down, you have to restart the dungeon.
How to Use the Trust System?
The first time to go to the dungeon, NPC stand around enter point into dungeon( there is a icon overhead).
NPC speaks their enthusiasm about going that dungeon.
It will open sub command "make up the party" and select it, Trust window will appear.
After 2nd time, choose Trust from main command, then open Trust window.
*Selectable NPC depends on the scenario progress.
Q&A About the Trust System
Q.When I go to dungeon with players, we loot need, Greed or Pass the item.
So if I go to dungeon by Trust, can I get all items?
A.The Items pop 1/4 than normal party.
It keeps balance solo player cannot hog the items.
Q.If I go DPS or Healer( except Tank), should I first attack to enemies?
A.When you approach to enemies, Tank NPC get enemies' attention.
In the End
That is the information about the Trust System.
I'll write about characters about the Trust System soon.
I hope this article is helpful for someone.
前の記事

次の記事