Hi, this is Karin(
@KarinMie_en
).
Why don't you dye your little chocobo(buddy)?
Prerequisite Quest
First of all, you need to have your little chocobo.
My little chocobo can get when you achieved the sidequest "My Feisty Little Chocobo".
And you need to accomplish the sidequest "Bird in Hand".
*You cannot order that quest if you don't have any houses (FC's house, own one or apartment).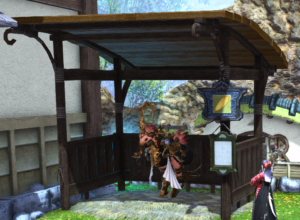 When you leave your chocobo at chocobo stable, you can train and dye.
The Procedure for Dyeing My Little Chocobo
I'm sorry the images are Japanese.
1.Leave your chocobo at chocobo stable.
2.Open the chocobo stable's menu and choose Tend to My Chocobo to Feed my chocobo.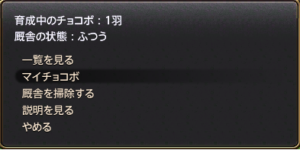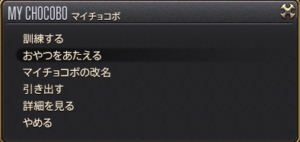 3.After 6 hours (Earth time) when you feeded, your chocobo's plumage will change.
4.After feeding a certain number of fruits, you will see such a message "beginning to grow new feathers!"
5. Your chocobo will be a different color in 6 hours.
Be careful to check out your chocobo from chocobo stable before changing color.
The record of feeding will reset.
The Kinds of Fruits
There are 7 kinds of fruits to dye.
The colors which can change is as same as armors' one.
*Except special colors such as metallic.
Feeding these kinds of fruits and reach your ideal color.
The details of each fruits are as follows.
The numbers of rising status is random so there is no positive proof how many fruits to feed begin to that color.
-Xelphatol Apple: Red
-Doman Plum: GreenBlue
-Mamook Pear: Green
-Valfruit: RedBlue
-O'Chomoro Berries: Blue
-Cieldalaes Pineapple: RedGreen
If you want to rest your chocobo's color, feeding Han Lemon.
If You Have Wishful Color
It is fun to think how many fruits and what kind of fruits to feed, then what color begin to be.
But if you have wishful color and don't want to think what kind of fruits should feed your chocobo.
This site is fit for you;
FFXIV Chocobo Colour Calculator
This site tells you needed fruits and order to feed from current color to desired color.
In the End
Chocobo is your buddy so enjoy dressed up him and run around field with you!
I'm happy if this article helpful for someone.