【2019】Now is the good time to begin FF XIV!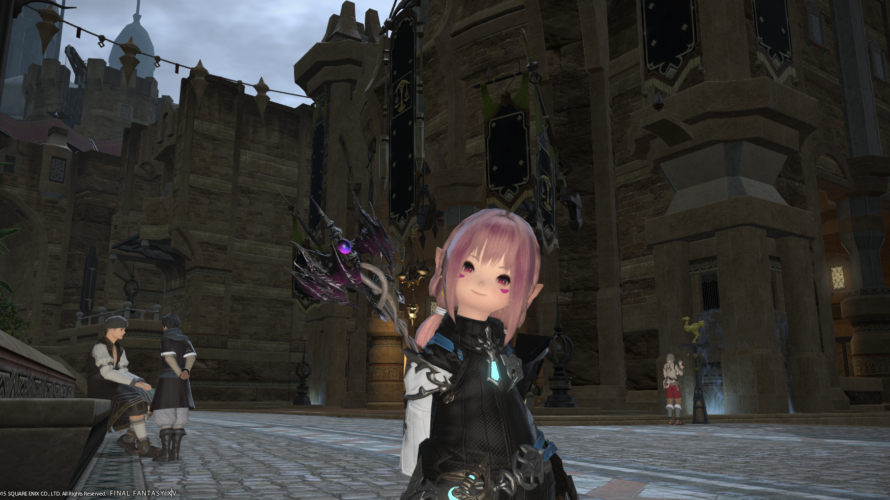 Hi, I'm Karin(@KarinMie_en).
It passed 5 years that started a service of FF XIV a Realm Reborn.
This article for such a people who is interested in FF XIV, and thinks is it possible to catch up with the latest Expansion for FF XIV "SHADOW BRINGERS"?
If you think so, this article for such a people who is interested in FF XIV and thinks is it possible to takeover?
About Final Fantasy XIV
An Online Game
FF XIV is an online game.
You can go to adventures with players from all over the world in real time.
There is no clear the game's story, it is different from offline games.
It is same goes for every online games until here.
So, what is the originality just like FF XIV?
That is …
Came on characters, scenes and settings from the past Final Fantasy series.
If you have been played FF series it made us fun cause we know the originals.(It just like materials.)
Though if you have never played FF series, even if this is the first time to play FF series, you can enjoy it because FF XIV is independent from the other series.
Me, actually, have played not all this series but I enjoyed FF XIV's story:)
Enable Devices
There are for
Windows
Mac
PS4 (and PS4 pro).
The server is same every devices.
PC players and PS4 players can play together, so either way is okay.
But if you play it on PC, it is required somewhat high-performance one.
If you don't have neither one, please check this article.
Comparison Between PC and PS4
The Reason Why Now Is the Good Time Begginig FF XIV
There are many people who have time to help
FF XIV released an expansion disk every 2 years.
And the latest expansion disk will released on July 2 2019!
(Actually it is possible to play June 28, though booking special.)
After released "SHADOW BRINGERS", almost players will be busy going new contents and proceed with new main scenario quests, so it will be difficult to gather players to go to old contents.
But now, the stories of patch 4.x, STORM BLOOD, almost finished so there are players who have finished what they want to do and can help new players.
Possible To Catch Up With an Expansion Disk
It is almost 3 months to released a new disk.
There is enough time to play FF XIV!
Now, you start and going to proceed with main scenario quests, you can play the latest Expansion for FF XIV "SHADOW BRINGERS" when it will be released!
Stories of MMO RPG games passed slowly that is why you can overtake FF XIV players.
A new patch release once every 3 or 4 months from FF XIV, and story goes on a little bit.
In addition, it takes a lot of time to go some new contents, it getting easier to get rare items,attack new trials and so on!
So it makes ease to catch up with for new players.
I think the best timing to begin FF XIV, that is you're interested in and want to play it.
But if you have an interest in FF XIV just a little, now is the good time to begin FF XIV!
You can begin your journey from FREE TRIAL till level 35.
前の記事

次の記事