Yo-kai Watch Collaboration Is Coming Soon!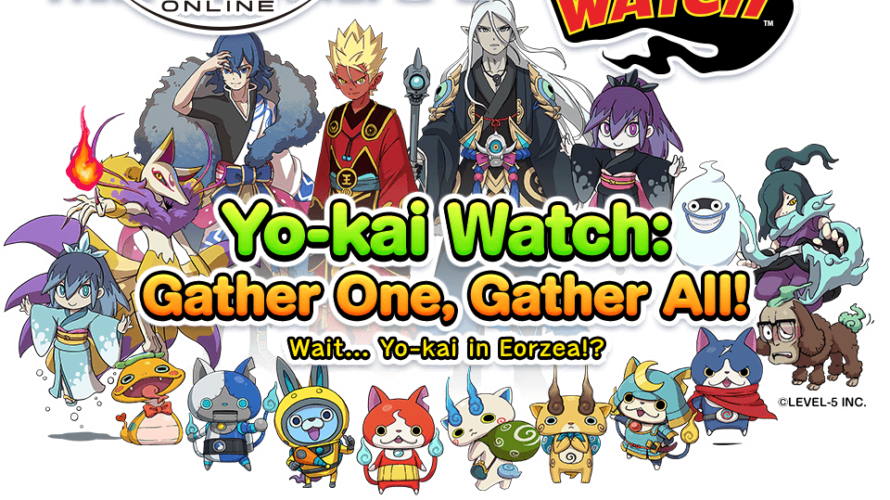 Hi, this is Karin(@KarinMie_en).

Yo-kai Watch collabo is going to start soon.
Four new weapons will be added!
Outline of the Event
Event Period
From August 19, 2020 at 1:00 a.m.(PDT) to the release of Patch 5.4.
*The seasonal quests cannot be completed after the event has concluded.
Place to Order the Quest and Requirement
The event quest can receive an order at Ul'dah- Steps of Nald, X:9.2 Y:9.1, from Poor-heeled Youth.
You should be upon level 15.
You must first complete one of the following main scenario quests:
The Gridanian Envoy
The Lominsan Envoy
The Ul'dahn Envoy.
How to Play
Gather Yo-kai Medals
Equip the "Yo-kai Watch" and participate in FATEs.
Completing a FATE with a silver or gold rating then you can receive it.
FATEs areas are
A Realm Reborn: (La Noscea, the Black Shroud, Thanalan)
Heavensword: All regions
Stormblood: All regions
Obtain Minions
After gathering Yo-kai Medals and delivering them to the wondering executive at Gold Saucer(X:5.2 Y:6.9).
He will introduce you to your favorite Yo-kai.
By befriending these Yo-kai, you will be able to summon them as in-game minions.
Acquire Collabo Weapons
To participate in certain FATEs while accompanied by the Yo-kai minion that corresponds to the desired weapon.
Completing FATEs with a silver or gold rating, you will occasionally receive Legendary Yo-kai Medals.
You can exchange Legendary Yo-kai Medals with the wandering executive.
The FATE locations are different depending on the weapons.
Be sure to check the Yo-kai Medallium for details on where to go to search for medals.
Mounts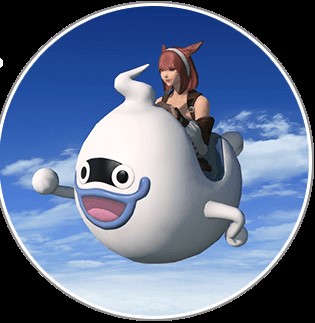 There are three mounts to obtain form this event.
・Whisper-go:available for completing 13 minions
・Whisper A-go-go:available for completing 13 weapons
(It is shining whisper-go with Jibanyan.)
There are as same as past event.
New mount will be added!
・Jibanyan's mount (sorry I don't know its name)
I think it is available to complete all weapons.
In the End
The event period is long so if you plan to obtain all weapons, I recommend to keep at it little by little.
Because the Legendary Yo-kai Medals are rare items so it is hard to gather in a short period of time.
Thank you for reading!
前の記事

次の記事