Dress Up Using Glamours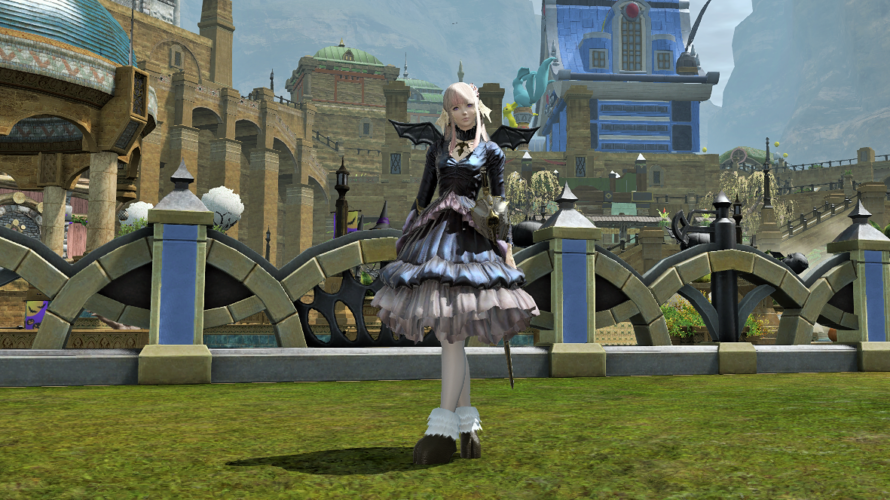 Hello, I'm Karin(@KarinMie_en).
There are many people who are think that..
"the mativation is getting down because armor's looks is not good just beginning."
(I was so, haha)

But if you use Glamours, you can wear cool or cute armors till level 35!

This time, I wrote about Glamours.
What is Glamours?
The armor's performance as it stands, the looks project the other armor's looks.
That is Glamours.
Preparation for Glamours
You need to accomplish these quests about glamours.
When you accomplished these quests, you can use Glamours and change your armor's color.
-The quests required level 15.
-To complete all of these quests:
"If I Had a Glamour", "Color Your World", and "Absolutely Glamorous".
You can receive the quests at Vesper Bay, in Western Thanalan from Swyrgeim.
There is no Aetheryte in Vesper Bay, so we cannot teleport there.
I reccomend to go there by boat in front of Arcanists's Guild at Limsa Lominsa.
Let's Do a Glamours
Preparation
An equipment want to project and Glamour Prism.
It need a Glamour Prism per an equipment.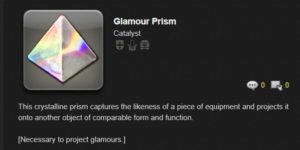 It can make by Crafters over 30 levels.
If you want to make it, you need to buy recipe.
It also can purchase on market board.
How to Glamours
I'm sorry the images were written in Japanese.
Open the subcommand menu on an item and select Cast Glamour.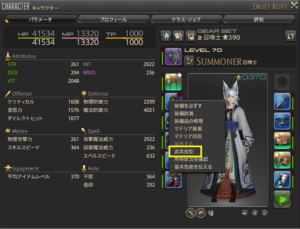 Then, it will open other window, choose the item what you want to change.。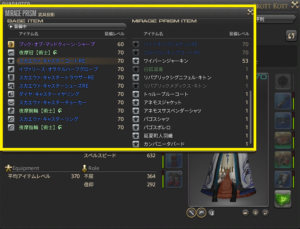 It will appear a confirmation window, you click "cast", then Glamours has done.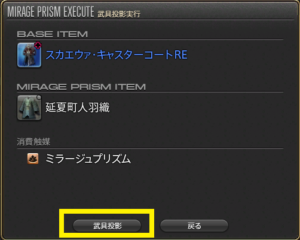 The equipment which you done Glamours, it attached the mark "+".
Squared by yellow, there is no color in the mark, it is not dyeing.
Squared by red, it colored in the mark, it changed color.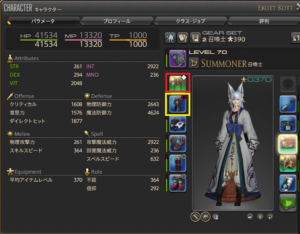 A Timing of Dyeing
It could be dyeing before Glamours or after that.
But there are different things when you are dyeing.
To Dye After Glamouring
First, it had changed equipment's looks, then you have dyed.
So it changed color only equipment which you were
To Dye Before Glamouring
First, to change an equipment's color, then you Glamour, the equipment's color had dyed.
If you want to dye only this time, you should dye it after Glamouring.
In the End
There are many cute and cool equipment in FF XIV, so it is fun to think about coordinate.
If you see nice clothes in the city or on the market, you can try on!
It is better to Glamour after fitting.
前の記事

次の記事